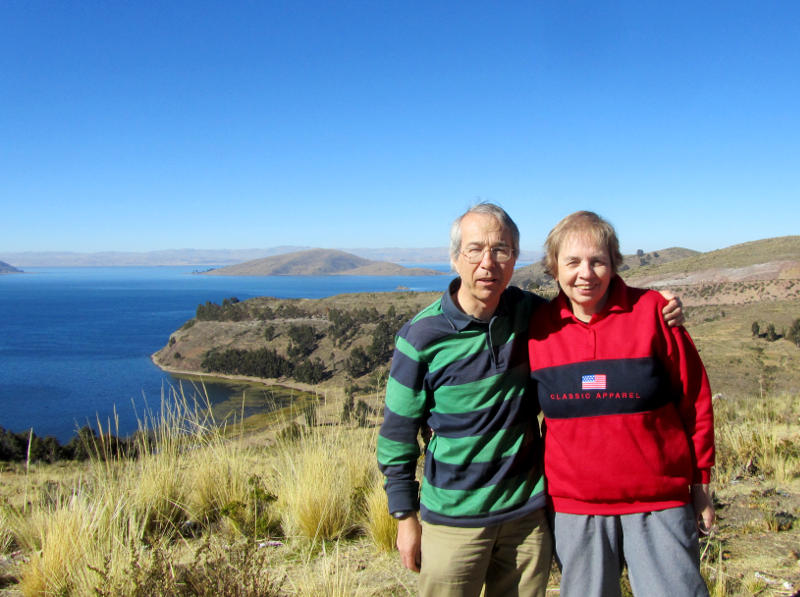 The photo was taken beside Lake Titicaca, Bolivia, in 2013.
Phil is on the left… I formerly worked as an electronic (software) engineer for an aerospace company, and took early retirement in 2015.
Miriam is also retired, having been a nurse and then working in health-related university research projects.
Some things we do
Church
We are active members of Christ Church, Selly Park, Birmingham.
Phil: "I have a role in communications, in particular managing the Christ Church website and social media accounts and also producing the weekly notice sheet. I also lead the music group in some Sunday services."
Miriam: "I take part in prayer ministry and lead the Friday morning Coffee Mates."
Community
Phil is a volunteer for Stirchley Baths, having given numerous tours of this Edwardian building now beautifully restored as a community hub. The Baths is a great venue for the monthly Stirchley Community Market of which I am a steward, and the Baths heritage programme provided the inspiration for Stirchley History Group.
We are members of the the Liberal Democrats supporting its local campaigns.
Words, music and images
Miriam is a member of Phoenix Singers, a large choir which gives concerts several times a year. We both go on and enjoy their annual tours.
Phil is often found at Artefact in Stirchley, the café home of the fortnightly Crunch creative writing group – or he may be leaving English behind at Kings Heath Spanish Club.
And at pretty well all these venues and events, Phil is taking photos!