---
Christmas News 2012
Isle of flowers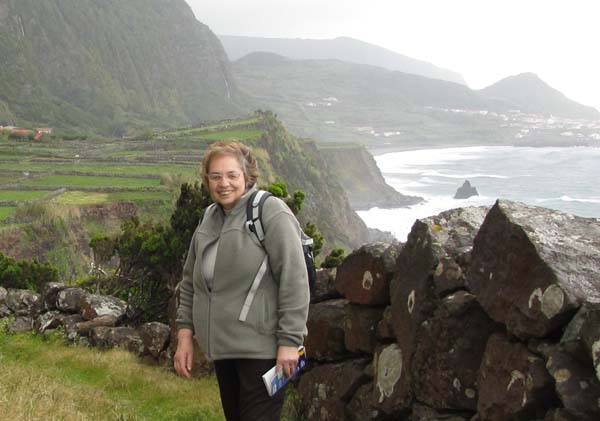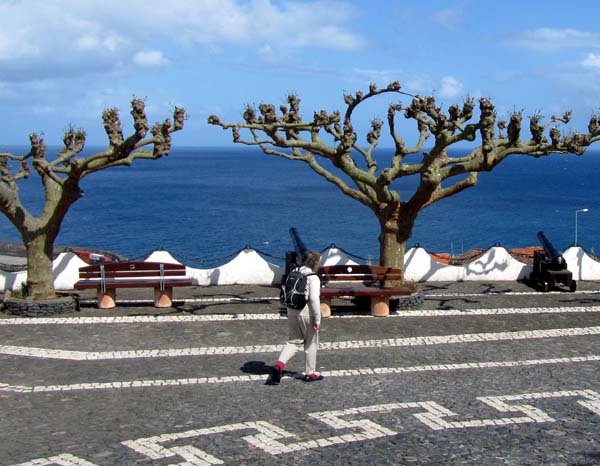 "We spent a beautiful 10 days in May on the islands of Faial and Flores in the Azores. Flores was so green, with dark mysterious lakes and steep cliffs. One of our walks took us to the most westerly point of Europe." - Miriam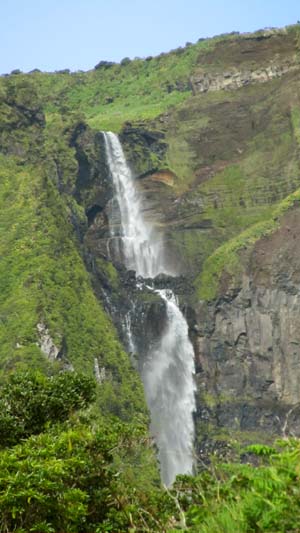 Despite its small size, Flores (which means "flowers") has amazingly diverse scenery. Much of the coastline is bounded by cliffs and there are numerous viewpoints, waterfalls and coastal paths. Inland, mineral deposits have coloured the lakes blue, green and even black.
Just out of reach was the even smaller island of Corvo, arguably the least accessible place in Europe, which we could see tantalisingly shrouded in mist across the choppy Atlantic Ocean.
While Flores excels in scenery, it is hardly a paradise for shoppers. In Santa Cruz, the main town, it was only the distinctive beep of a supermarket checkout that revealed the true purpose of the anonymous building outside which we were standing.
One thing we found impossible to buy was postcards. We wondered whether to start a business using our own photos, but you don't have to pay anything to view a collection of our photos from the Azores.
Peaks, boats and craters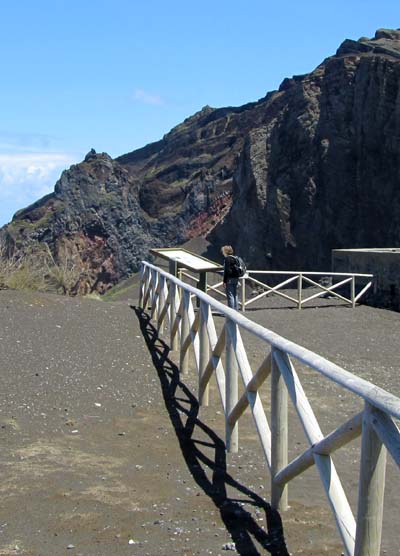 "Faial was also lovely; it had a very dramatic crater and it was possible to walk around the top edge, though the mists came down on us and we abandoned that idea after a short while. We stayed at a lovely B & B with superb views of Horta town and harbour, also Pico Island and its mountain that could be admired over afternoon tea or breakfast on the warmer days."
At Faial's western tip we visited the barren rock formations formed by volcanic activity only half a century ago. To the east, the mighty volcano of Pico - Portugal's highest mountain - dominates the island which has the same name. We spent a day on Pico exploring the forest roads on the lower slopes of the mountain and then working our way back to the ferry terminal through the towns and villages along the coast.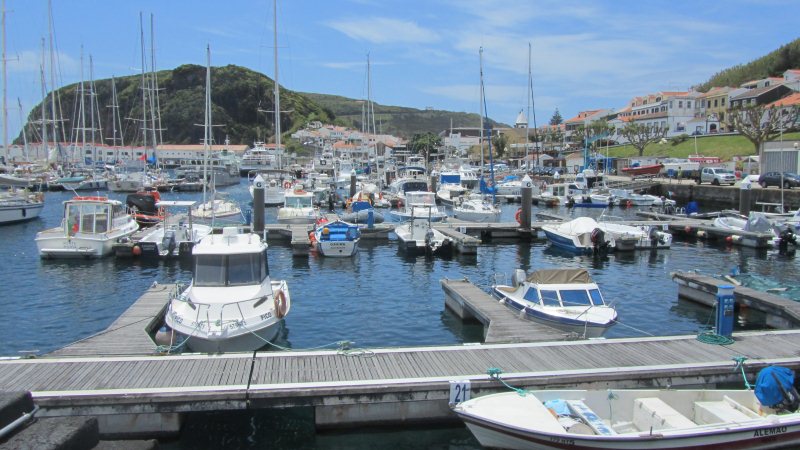 Back on Faial, the town of Horta is a popular place with the yachting fraternity. Although the marina seemed to be always full of yachts, we never actually saw any arrive or leave.
Inland, the giant crater at the centre of the island is the crowning glory of the "Ten caldeiras trail". We visited just one other, walking up a steep path from a levada which was already some 600 metres above sea level.
London's learning
"I am currently in my second year at UEL (University of East London) where I have joined the Christian Society and joined St Mark's Church, Beckton." - Martin
Martin continues to roam London, discovering such novelties as a script from an episode of the Simpsons at the London Science Museum.
Books read:
The Father Thing by Philip K. Dick
The Curious Incident of the Dog in the Night Time by Mark Haddon
Maus by Art Spiegelman
Pears Cyclopedia
Genesis in the Good News Bible
Currently reading:
Metro 2033 by Dmitry Glukhovsky
Miriam at work...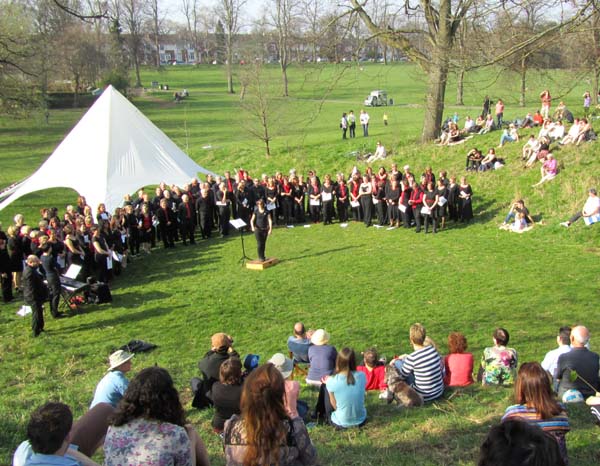 "We successfully recruited the correct number of participants for a stop smoking study looking at reduction programmes as against abrupt quitting. It was a hectic year (2011) getting to the target and I am now helping analyse the results. At the same time I've started recruiting for a different trial looking at possible benefits from wearing patches (while still smoking) in the lead up to quit day. This will have a similar rush to the finish as it's been a slow start to date. I have dropped my hours to 3 days a week, Monday to Wednesday so now I have more time for other things."
...and at play
"The other new activity I have commenced is to join Selly Oak Community Choir, (no previous experience required). This is now known as SO Vocal. It has only been running this year, but we have already given 3 short (30 minute) concerts, one in Symphony Hall and two outdoors in a local park. The next concert is due next week, and another one at the end of the month, again in Symphony hall. It's a friendly choir with experienced leadership (courtesy of the CBSO) - and great fun!"
We have a page with more photos of the SO Vocal choir.
Church gets streetwise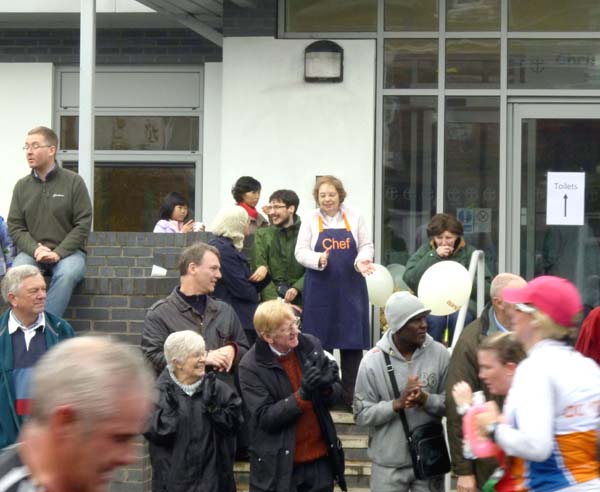 "Our church held its first Alpha course early in the year. Phil and I helped with serving food, washing up and clearing away. Several people on the course have started coming to church more regularly as a result. Once a fortnight I help with the Friday coffee morning by serving cakes and drinks and chatting to customers." - Miriam
Christ Church continues to explore new areas of activity. I am part of a group which has promoted action on the environment, and we were very pleased when this led to the church receiving an Eco-Congregation award.
I knew that the church's website would need a makeover when a new logo was introduced, and I waited to see what colour it would be so that I could adapt the site to match. The logo turned out to be multicoloured, and so, now, is the site - making it much jollier than it was before.
For all the changes that have taken place over the years, Christ Church remains the informal, friendly and committed place that it was when we joined it.
Joining the family
We've had to get used to the fact that the centre of gravity of the family has shifted towards London, but never did that gulf seem greater than when Adrian announced his conversion to Islam and married Sumaya soon afterwards. We could only watch and try to offer advice and support from a distance as he fulfilled the necessary religious and cultural requirements for the marriage, which took place at an Islamic centre in North London.
The wonderful outcome is that Sumaya is now our daughter-in-law, and we have enjoyed getting to know her over the last few months.
After a year away from academic life Adrian has returned to Queen Mary, University of London, to do an MA.
Back on the road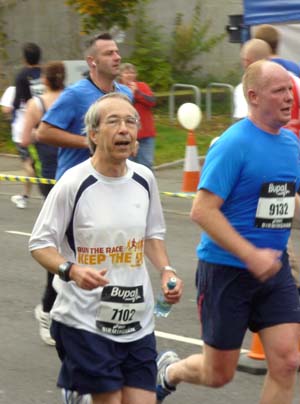 After recovering from injury I was once again able to enter the Birmingham Half-Marathon - now renamed the Great Birmingham Run. My main aim was to beat my time of 2 years ago, and I just managed to sneak inside my target time of 2 hours. Once again the atmosphere of the occasion was wonderful and nowhere was the support better than at our church which lies on the route.
The full story of the race is here.
I had trained mostly on local streets but managed some overseas training as well - including running round the airport on Flores.
The year in photos
We have separate pages for collections of photos from the Azores, photos of Miriam's Selly Oak choir (SO Vocal) and other photos from 2012.
---