"We had a family holiday in North-west Germany, within easy reach of Cologne and Aachen, a very enjoyable time for all four of us, with lots to explore, lovely accommodation and weather." - Miriam
Staying in a peaceful village on the edge of the mountainous Eifel region, we headed into the hills to reach historic towns like Monschau. The huge Rursee reservoir was astonishingly quiet, with the owners of the yachts moored around its shores evidently otherwise occupied propping up Europe's economy.
Urban art
Adrian's choice of 21st birthday treat set the cultural tone of our holiday. The Goethe Institute in Düsseldorf, full of memorabilia celebrating the writer's life and achievements, was certain to interest any student of German literature. For the 75% of us not in that category there was much to see in the rest of the city, with a stroll along the Rhine leading to the modern Medienhafen district, a playground for architects.
Cologne is rightly famous for its mighty Cathedral, but the neighbouring Ludwig-Museum, housing a huge collection of 20th century art, forms a compelling contrast. While the Cathedral's basement is filled with ancient treasures, the same floor in its modern neighbour is devoted to pop art. A brief visit to another nearby gallery allowed Adrian to get his fix of German Expressionists.
History - light and dark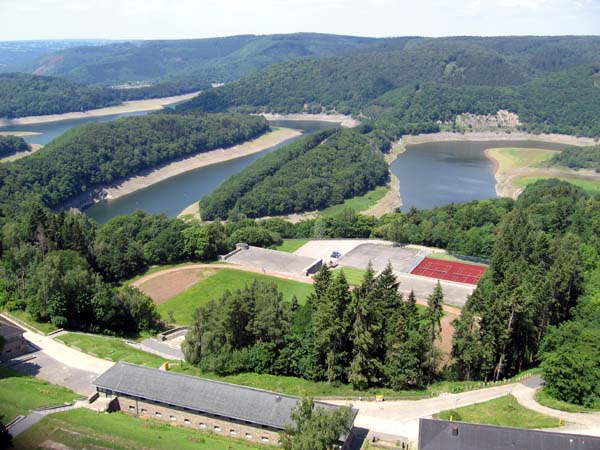 A visit to
Burg Vogelsang
recalled some of the darkest days of Germany's history. Originally built by the Nazis as a training camp it still contains many relics of their perverted ideals, though the invading Allies defaced many of the statues and monuments.
The story was resumed at the Haus der Geschichte der Bundesrepublik Deutschlands which charts Germany's rise from the utter ruin of 1945 to the present day. Occupying a modern building in Bonn whose size fully justifies the length of its name, it records military occupation, division and eventual reunification, attempted and successful revolutions, an airlift, 3 World Cup wins, an economic miracle and much more. A British equivalent would comfortably fit in one of the huts at Burg Vogelsang.