"The four of us took our main holiday in Western Austria last August. We did lots of walking, absorbed the wonderful views, and explored the local mountains and lakes. We took trips into Switzerland and Liechtenstein as well." - Miriam
The highest place we visited was the Silvrettasee, a reservoir constructed at the watershed of two mountain valleys, and accessible only via a long series of hairpin bends. We were impressed by the efforts of the many cyclists who make the punishing climb to the top, and by the restraint of those who freewheel down again without going over the edge. We let the car take the strain, and had a leisurely stroll around the lake.
A cable car took us up the Pfänder for good views over the Bodensee (Lake Constance), but we had to do the hard work to climb the spire of Germany's tallest church, the Münster at Ulm.
Opera deconstructed
"I went on holiday to Austria, where I saw a theatrical model of a broken statue, which reminded me of the poster of Escape from New York, which is one of my favourite films. Next to it was a model of an elephant with high-visibility clothing in it." - Martin
The statue and elephant were part of a gigantic opera set, built on a stage on the Bodensee for a production of Verdi's Aida. The outdoor theatre was open to visitors during the daytime. We couldn't go to the performance as it was fully booked months in advance, but we made a mental note never to buy tickets for the front three rows of seats, all of which would leave spectators with very wet feet.
Airborne invasion
The house we stayed in was half way up the side of a mountain, and on most mornings we were treated to the sight of paragliders floating down from their launching site high above us on their way to a landing place in the village below.

Left: Paraglider descending towards the village of Schnifis
There was a much larger craft on display at Friedrichshafen in Germany, where an airship was undergoing flight trials over the town and the adjoining lake. Below, the Zeppelin museum celebrates the town's former leading rôle in development and manufacture of these magnificent ships of the sky, as well as housing an art exhibition.
Family group outside the Schloss Vaduz, Liechtenstein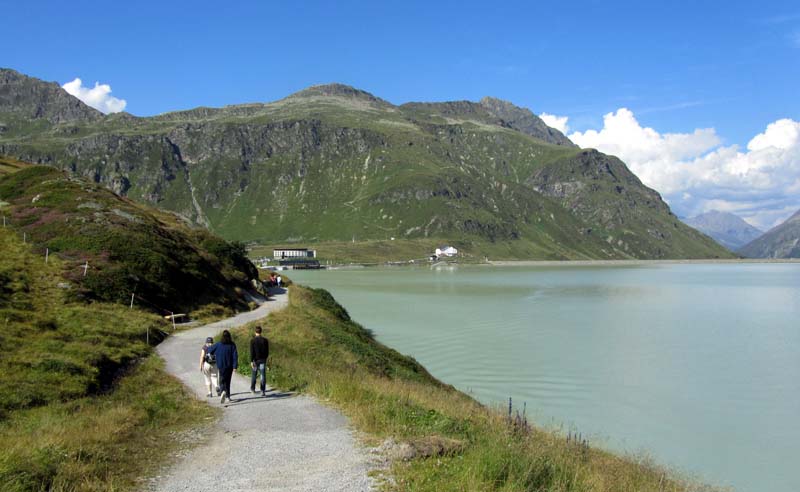 Walking around the Silvrettasee