Hilly history
We spent our summer holiday in Ireland, close to the Wicklow Mountains but also within commuting distance of Dublin. The Irish make much of their history, but their property prices and traffic congestion belong very much to the 21st century - as do the 24 hour Tesco stores in every town.

1798 and all that

One of our first visits was to Vinegar Hill, where a band of rebels set up camp over 200 years ago and were eventually massacred by the British forces. Our four-strong army was content to just admire the view. Further back in time, we visited the mountain retreat where a sixth century hermit called St Kevin founded a monastery after acquiring celebrity status and finding that he couldn't be a hermit any more. The mine workings established by the monks nearby are beautifully complemented by an electricity pumped storage scheme which, we suspect, dates from a later era.

At the Irish National Heritage Park, which contains reconstructions of various settlements and dwellings from former ages, we put Viking construction methods to the test by sheltering in a long house when a shower broke at the end of our visit.

Kennedy connection

In 1848 one Patrick Kennedy emigrated from County Wexford to escape the Irish famine. Over a century later, his great-grandson returned to visit the area as President of the United States, to the great and continuing pride of the local citizens. We spent a day at the huge John F. Kennedy Arboretum which was created in his memory, and toured a replica of one of the emigrant ships which carried the huddled masses across the Atlantic in cramped and insanitary conditions.
Building for the future
Life this year has been dominated by events in our church as the Building Project, some ten years in the making, finally swung into full action. Once an ambitious fundraising target had been met, the decision was made to vacate our dilapidated old building ready for demolition and rebuild. We held our last service in that building in September, and are now running all our activities at other venues around the area until the builders have finished work.
Miriam has taken over the job of applying to charitable trusts for funds, and eagerly awaits the day's post in the hope that an envelope will arrive containing yet another substantial cheque.
"Our church has been seriously fund-raising for the new building all year and we are sure that God wants us to go ahead with this. Plans have now been finalised and sources of grant money are being investigated, as we still have to try and raise a lot of funds. The old building, where Phil and I first met in 1987, will be pulled down shortly, it's been sad to see it go." - Miriam
"I'm in charge of publicity, and have produced four newsletters which have been delivered to households in the parish to tell people about our plans. Moving out of our old building landed me with the task of rewriting the church website, but there are compensations: our temporary home for services - a neighbouring church - has an organ, which I've been more than willing to use." - Phil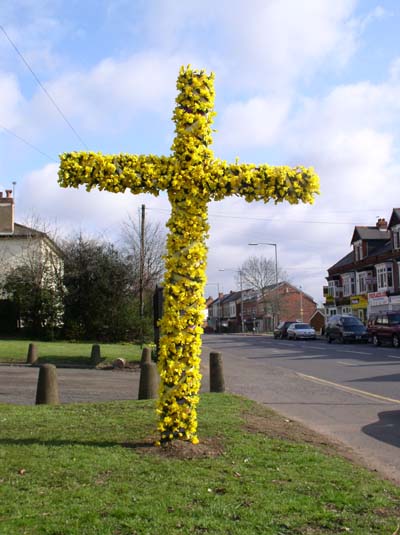 Miriam moves on
This year has been another busy time. We had a lovely holiday in August, spending 2 weeks in Ireland, in the Wicklow mountains area, with good weather, a tennis court in the garden, and lots of opportunities for sight seeing in Dublin, and the southeast of the country.

In September I left the department of Primary care at the University of Birmingham and took up a 2nd part-time post in the department of Public Health. This new job that is due to last for 3 years is research into obesity in children, and will be based in schools in Birmingham. To date it is going well and we have already started measuring children and administering questionnaires to them and their parents.

My involvement in party politics continues much as in the past, we were, as usual, up to our necks campaigning and achieved a very good result in Selly Oak local elections last May.
Martin: Fun with cloning
"I am now in my second and final year at Queen Alexandra College, where I am now a residential student. My hostel at QAC is called Ashwood, where I share it with three students who was at QAC last year, and several new students. I am in Room 2 and I have a keyworker who likes very much the same type of films as me (which are action films) called Kurt."
"I went on holiday to Ireland, in which I recognised two of the most famous bands which are from there, U2 and Westlife. U2 were shown on the 'Wall of Fame' which is in Dublin. In Ireland we climbed up quite a lot of mountains and went on quite a lot of guided tours."
"I went to the bowling alley, down the road, for the 17th birthday of someone who went and may have left the same college as my brother, which is Bournville College and used to be in my class at Queensbury School, Kelly. Since we realised Kelly had forgot to book, we instead went to the cinema, where I and a few others saw King Kong, while the rest saw Just Friends."
Don't be alarmed by the next bit: it's only about computer drawing... "I had been experimenting with cloning people's heads on other people's bodies, using Photoshop, in which looks very funny, especially when someone's head is on a person whose size is completely different to them. I got the idea when I saw my friend at College do it."
Adrian advances

Adrian left school in the summer, having earned a clutch of good GCSE's despite having missed something like a year of education due to illness earlier in his career. Never one to follow the standard route, he is now doing a BTEC Diploma in Music at Bournville College. Although this is intended as a full time course, he is also fitting in an English A level, which entails a lot of reading. This has the great benefit (for him) that at least some of his coursework can be done without getting out of bed.

Meanwhile, his band has re-formed (a polite word for "split") and is hard at work recording and playing the occasional gig.

Party time

One of the highlights of the year was the Golden Wedding celebration of Phil's Mum and Dad in June. The original plans were scaled down due to health concerns, but the day went off well and was a fitting tribute.

A few weeks earlier we enjoyed another great family occasion when Miriam's cousin Paul entered into a civil partnership with Alan on a gloriously sunny day in London.