---
Christmas News 2003
Coo! What a scorcher
Martin meets a famous Belgian:
Adolphe Sax, inventor of the saxophone
As western Europe sweated through a record-breaking heatwave last summer, our problem was shared with millions: How to get out of the heat?
On holiday in the Ardennes in southern Belgium, we headed underground and toured some of the caves that stretch under the mountains. At Han-sur-Lesse we marvelled at the scale of the ancient rock formations, stalactites and stalagmites (some of them several metres tall) in a network of caverns that seemed to go on forever. At Couvin we were treated to a boat trip and a light show featuring an underground waterfall.
When the temperature dropped from "furnace" to "sub-tropical" it was safe to spend more time above ground. At Bouillon, built around a loop in the river, we climbed up the hill to the castle, where we could take refuge from the heat in the dungeons. At Coo, a village which consists of a waterfall, a theme park and hordes of tourists, we took the chair-lift up the neighbouring mountainside for panoramic views from the look-out tower at the top. Miriam was brave enough to accompany Adrian on the log flume that runs round the theme park.
Back at ground level, we enjoyed boat trips on a nearby lake and on the river at Namur (a pleasant city where, oddly enough, the Cathedral was closed on Sunday). Later on we admired the extensive network of fountains in the water gardens at Annevoie. None of this could make up for the fact that we had made our first trip through the Channel Tunnel to get to the continent, which meant that we never saw the sea.
Castles in the air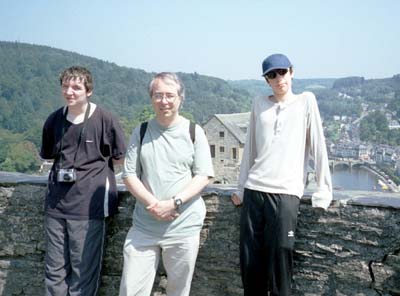 Hot, hot, hot: The castle at Bouillon
The Ardennes range stretches into northern Luxembourg, where the mountains become ever steeper and the river valleys deeper, providing lots of lucrative work for the medieval castle-building industry. One of the more spectacular sites is that at Bourscheid, where the local nobs once enjoyed literally towering views over the surrounding countryside. We peered over the parapet of the central tower and could just about make out, far below, the local caravan park.
Today the Luxembourgers eke out a more than modest living by cunningly charging lower rates of duty than neighbouring countries. Visitors from Belgium and France are lured across the border by the prospect of paying 20% less for petrol (well, we were, anyway) and then discover huge shopping centres eager to lighten the wallet still further.
Miriam's view of the year
Miriam and Martin test the Channel Tunnel emergency backup transport system
(Lacs de l'Eau de l'Heure, Cerfontaine)
I am still finding my job very enjoyable, and continue to travel around the West Midlands, Gloucestershire or Oxfordshire once or twice a week. However an important decision early next year (2004) about the project funding and therefore its future may lead to a personal choice as to whether I am able to remain in the present post or not. Recent achievements have been a poster presentation and a short talk at two national professional conferences on an aspect of the large study I work on.
The holiday in Belgium was a lovely break; we stayed in a delightful house with a beautiful view of the wooded valley opposite, situated in an isolated village. Every evening was warm enough to eat outside with this vista before us. We also managed to visit Holland, play mini-golf, walk in the local woods, visit castles and beautiful water gardens of Annevoie. For ease and speed of travelling we used the Channel Tunnel, however it was an odd feeling to have crossed the English Channel without seeing it.
Triple triumph
After a long series of investigations and false starts, Adrian has finally put last year's health problems behind him and is now once more settled in a school. He goes to Hartlebury School, in the depths of Worcestershire. This means an early start to the day, but we have all adapted to the routine and everyone seems happy with the arrangement.

Ironically, we have learned that a photo of Adrian features in the prospectus of the school he left earlier in the year.

Adrian has also made rapid progress in another field: he started drum kit lessons in September, and will move up to the Intermediate class in January.

Another long-standing issue has been the asylum cases of our African friends, who have had to endure a long series of delays and frustrations as the legal battles proceeded. Eventually four of the five cases were won, with one still to be resolved. The families are now getting on with their lives - getting jobs, paying taxes and so on - as they always wanted to do.
An even longer battle - going back over ten years - has been the effort to get a councillor elected for our party in Selly Oak. This year we finally made it, and are now gearing up for all-up elections to the City Council next June.

On polling day we were visited by a delegation of MP's from Belarus who were here to learn about how British elections are conducted. If every future Belarussian election committee room is equipped with a teenager playing a computer game, you will know the reason.
Martin's memories

At school I stopped being at Key Stage 3 and started being at Key Stage 4. My form room changed from room 12 to room 20.

I watched quite a lot of Kung Fu films on CNX [a cable TV channel] including Police Story which is the best Kung Fu film I've seen because it is very funny.

In the summer holidays a man called Liam came here on most Mondays and Tuesdays. On most Mondays we went bowling and on most Tuesdays we went to the cinema. The movies we have seen in the cinema are Bruce Almighty, Hulk, Terminator 3 Rise Of The Machines, Pirates Of The Caribbean and Jeepers Creepers 2.

"Down keyboards, brothers!"

Our Industrial Correspondent reports from the picket line

Phil's normally placid work colleagues were driven to unusual levels of militancy this year as a dispute raged over the criteria for selecting candidates for the redundancy programme. Fortunately we had good weather for the strike days, and in the end matters were settled more or less amicably. Best of all, Phil wasn't made redundant, and continues to ply his somewhat arcane trade.

Twentysomething

Our church celebrated its 25th anniversary last year, and is now in the process of becoming an independent parish, having originally been founded as an offshoot of the main parish church. Such things might be expected to take a long time in the Church of England, but in fact it's all happening remarkably quickly, and we expect to celebrate Independence Day sometime in the next few months.

Sports report

In a rare display of sporting activity, we spent most evenings on holiday playing tennis and badminton, finishing with a knockout tennis tournament. We needn't bore you with details of who actually won. After all, it's the taking part that's important, not the winning - ask any Australian rugby fan.
Photo fun
Here's an assortment of the photos we have taken during the year, highly compressed for the benefit of those who (like us) are too tight to pay for broadband.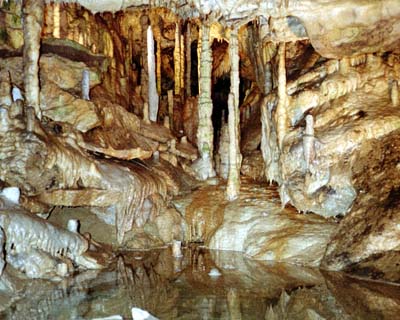 Underground lake and rock formations at Han-sur-Lesse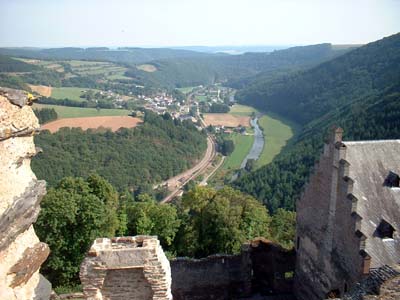 View from the castle at Bourscheid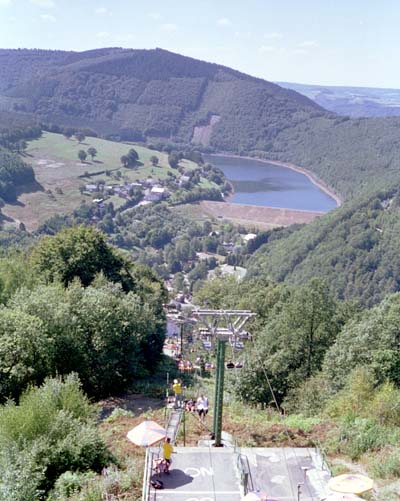 The view from Coo: looking down from the top of the chairlift
A sombre history lesson:
The American War Memorial at Bastogne commemorates the Battle of the Ardennes,
fought in December 1944 at a cost of nearly 200,000 lives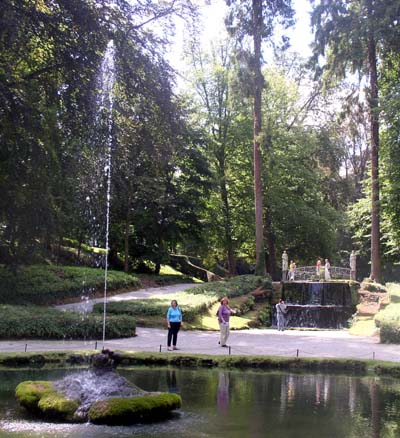 The water gardens at Annevoie
Why camera lenses aren't spherical
---