---
Christmas News 1996
Holiday falls flat
North Holland may be flat, but far from dull. Our holiday there covered a wide range of interests.

Transport: We all enjoyed going to Amsterdam on a double-decker train (we went upstairs, naturally!) and sight-seeing on a canal trip. We went to the island of Texel on a ferry, and toured the island by bus. We didn't go on any bikes but we nearly got run over by quite a few.
Wildlife: We were unable to comply with Martin's request for "a zoo with no elephants" (he doesn't like their trumpeting noise), but we went round an aquarium which was very enjoyable and totally elephant-free.
Engineering: Land reclamation may not excite everybody, but it's vital to the Dutch. We visited an exhibition in a town that forty years ago was at the bottom of the sea, having driven across a 27-kilometre long dike to get there. Then there are the canals, the wind farms, the swing bridges...
Folklore: "Fairytale Wonderland", as its name suggests, is highly child-oriented. Models of scenes from fairy stories are set in a wood, and there is a huge playground. Very popular with the boys!
Space: Adrian was very proud to receive an Astronaut's Certificate at a space museum (the practical training comes later, we suppose).
International relations: Adrian did his bit by making friends with children of various nationalities in the bungalow park where we stayed. He did this mainly by talking to them non-stop in English (just as he does to most people). Martin decided that a playground was the same in any language and made full use of it.

Martin and Adrian by the canal in Amsterdam

Another canal - at Hoorn
"Leaflet Lady" in Selly Oak sensation
Miriam made her debut as a candidate in the May local elections and came second with a creditable 26% of the vote, pushing the former councillor into third place. The campaign involved a lot of leaflets, time, hard work, leaflets, posters, letters, leaflets and more leaflets. We gained an appreciation of the range of letterboxes in current use (beware the "Springtrap" model in particular) and also of the variety of lamp-posts which the council so generously provide for us to hang our posters on.
Merger Mania
Just as Phil completed his tenth year with Lucas, the company decided to merge with an American company and now goes by the uninspiring name of LucasVarity. Despite countless re-organisations, life at the coal face goes on more or less the same, software still gets written and tested, and planes keep on flying. Long may it remain so!
Boys will be boys (1)

We are always pleased to discover things Martin can do. He loves using computers, especially things like word processors where there's plenty of opportunity for experiment (let's click on this button and see what happens). He has to be watched carefully in shops - he finds unattended sales terminals particularly irresistible! One of the surprises of the year was that Martin really enjoyed swimming at school (he went to great lengths to avoid it when he was younger). He still loves mazes, dot-to-dot puzzles, crosswords, ABC books, obscure animals...

Boys will be boys (2)

Adrian notches up huge scores in computer games, which has taught him about very large numbers, thereby proving the educational value of computers (don't laugh!). He has enjoyed playing cricket at school and is quite handy with a snooker cue, although he says his favourite activities are eating and reading, and he certainly does a lot of both. He did a drama course this Autumn and has landed the title role in the Infant School production of The Wizard of Oz.

Dad goes back to school

Phil has completed an interesting first year as a governor at Adrian's school. Fortunately Birmingham provides excellent training for governors, and both the Junior and Infant schools are very well run, so there haven't been any real problems so far. Two Ofsted inspections next year will concentrate the mind wonderfully!

All of human life is there...

...at the Church Centre, actually, where an amazing variety of people do an amazing variety of things. Our contributions have included music, a prayer ministry team, playing skittles, painting walls, buying teabags...
More photos...
Manning the defences on the Frisian island of Texel
Same island... different (and more important) defences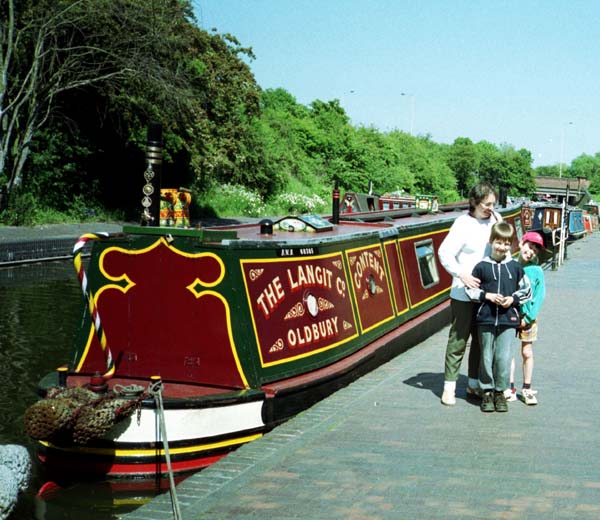 Canal trip at the Black Country Museum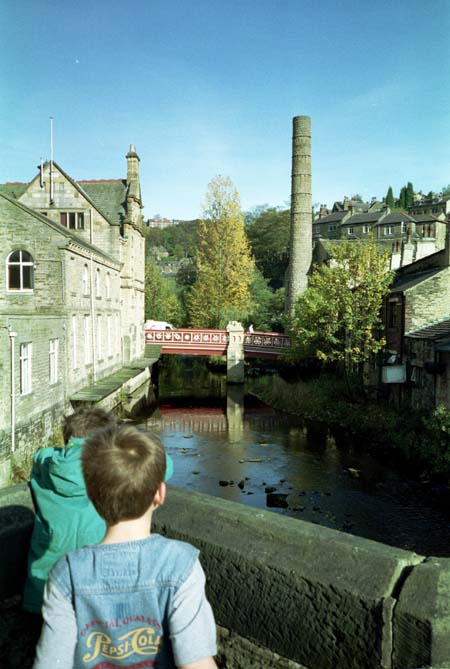 We visited Hebden Bridge during an autumn holiday in Yorkshire
Another cannon - at Skipton Castle
Adrian has a swinging time in Yorkshire
---