---
Christmas News 1993
Animal Magic

Martin has always been fascinated by animals, and visits to farms and zoos are essential parts of any holiday. This year he has become especially fond of pony and donkey rides - he grins from ear to ear the whole time. Other memorable animal encounters include feeding a biscuit to a squirrel which was earning a nice living by begging from passing tourists, and Adrian trying to convince a greedy goat that his bag of animal food was empty ("It's all gone, matey!")

Phew! What a scorcher

You may remember that there were only three fine weeks this summer: we spent two of them in Cornwall and the third in mid Wales! In Wales we used various forms of transport: donkey rides for the boys at a "sort of fair"; the Talyllyn narrow-gauge railway to visit the Dolgoch Falls (where we fed the aforementioned squirrel); and a water-powered cliff railway to get to the Alternative Technology Centre.

Messing about in boats

Our holiday in Cornwall included trips on three boats: a big boat (on a day trip to the Scilly Isles), a medium-sized boat (across Falmouth harbour) and a little boat (back from St. Michael's Mount, where we got caught by the tide). Other treats included Land's End, the Goonhilly Downs satellite earth station and the "lots and lots of picnics" that Adrian had been looking forward to.

A mystery solved

Or at least given a name! As Adrian has grown up and become very talkative very quickly it has increasingly shown up Martin's lack of fluent speech and, often, understanding. After examination by various experts during the summer Martin was diagnosed as having a mild form of autism - basically a communication disorder. Although this condition is fairly rare it has also been the subject of a great deal of research and so there is quite a large store of knowledge on how to handle it, plus our own hard-won experience! However, the diagnosis came too late to prevent...
School daze
Martin started at Moor Green Infant School in September, and his time there has been dramatic to say the least! He loves being there and enjoys most of the activities (especially the computer!) but quickly earned a reputation as "that boy in Reception" who wanders out of the classroom and explores the school at his leisure. Recently his behaviour has become more erratic and after desperate pleas to the LEA he will shortly be having a classroom assistant to keep an eye on him and, we hope, help to cater for his rather individual educational needs. In the longer term it is not yet clear whether he will stay at Moor Green or go to somewhere more specialised.
If music be the food of love...
...then it's no surprise there's so much of it at weddings. After a gap of a couple of years Phil has played the organ at several weddings this year, having dusted down and extended the repertoire somewhat. Part of the challenge is having to satisfy the sometimes exotic musical demands of the bride and groom: this year's special requests include Widor's Toccata, the Dam Busters March and part of a Mozart piano concerto (yes, on the organ!).
"Mummy, there's fire in the kitchen"
...said Adrian one afternoon. Of course there is, thought Miriam: the potatoes are cooking, and he's talking about the gas flame. She discovered a few minutes later that Martin's sandwich box had caught fire! Her rapid deployment of firefighting equipment, supplemented by the efforts of the fire brigade, soon left everything safe but very, very messy. Fortunately there was remarkably little real damage - having replaced a piece of worktop the only lasting effect is a slightly singed kitchen unit.
Business as usual
...for Miriam, "helping make poorly people better" (i.e. part-time nursing); for Phil, "helping make airplanes" (not, as the boys probably imagine, bolting the wings on - actually, writing safety-critical software, which is far more mundane).
---
So it's not exactly been plain sailing all year (the return trip from the Scilly Isles was very rough, at least!) but we look forward undaunted to what will no doubt be an equally eventful 1994. We would like to wish you a peaceful Christmas and may God's blessing be with us all in 1994.
More photos...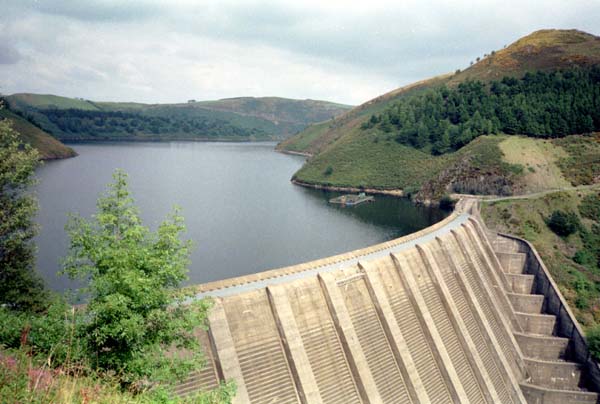 ---