---
The Banting "How To" Guide for 1992
How to see boats, a castle and a slide (all at the same time)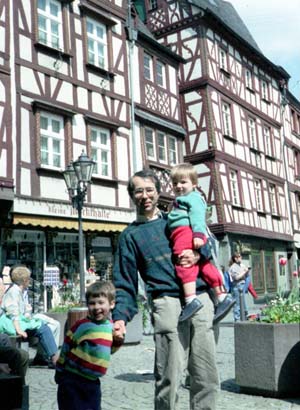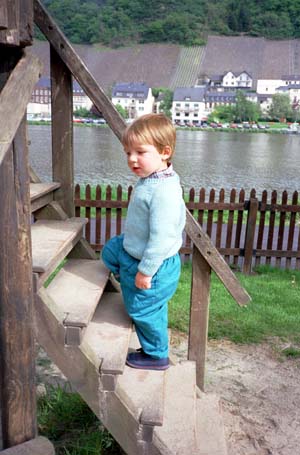 A riverside park in Bernkastel an der Mosel, Germany, provides this pleasant combination. We visited it several times during our two-week stay in the area, which also featured walks through the vineyards high above the river valley, visits to local animal parks and travel through immaculate towns and villages. We soon got used to Adrian's triumphant cry of "Boats!" whenever he saw the river; the highlight for him was a river cruise, where he taxed his parents' linguistic skills by choosing to play with a little French girl. Vive l'Europe!
How to learn a language
With his employer putting up the money Phil decided to do a German A-level at a local college. We came back from Germany two days before the oral exam - to fail after that would have been a bit embarrassing!
How to see Snowdonia
Phil used the following method. First go on holiday to Anglesey while recovering from a leg infection. When it doesn't clear up, go and see a local GP who, fearing a blood clot, will prescribe two days in the main hospital near Bangor. The picture windows in Tryfan ward give a quite magnificent view of the mountains. Another attraction is the bilingual menu cards, which are of great educational value - did you know that the Welsh for "mousse" is "mws"? However, we would really have preferred a good holiday...
How to make a lot of noise in church
Actually this is Phil's speciality - leading the Church Centre music group has taken a lot of time and effort, made easier by the fact that the other members are very good! Sadly Miriam has not been able to play in the group much this year, but is more involved in other church activities. Martin enjoys Scramblers (for 3-5's), especially learning songs, while Adrian is now out-growing the crèche, where he is actually one of the quietest children (thanks to some toy cars and a train set).
How
not

to find out what Martin did at nursery school

Just ask him in order to get a totally unreliable answer. Does he really hear a story about "a boy called Paul" every day? Does he really sing "I hear thunder" every day? We doubt it. Still, he enjoys it a lot and is getting more talkative.
How to find out what Adrian did at nursery school
He goes to a nursery called Sunny Corner one day a week and tells us about all his activities, among them "singing", "dancing in a circle", "drawing" and even "tidy-up time at Sunny Corner". He enjoys it a lot and could hardly get more talkative.
How to find out what's on television
Just ask Adrian, who recognises many of the daytime programmes and their presenters. He can even identify "Tassic FM".
How to see sunflowers in a sports hall at 2 am
This was only possible at the National Indoor Arena, venue of the Birmingham count, on General Election night. The sunflowers were worn by the Greens, totally upstaging the rosettes worn by the other parties. The TV cameras inexplicably concentrated on the winning candidates and their speeches. Next day: how to get back to reality.
How to say goodbye
Sadly we lost two close relatives this year, Miriam's father and Phil's grandmother, both missed by the boys as well as by us. There isn't really a right way to say goodbye, is there.
How to prepare for 1993
We very much hope that we and you may enjoy a peaceful and happy Christmas and every success in 1993.
More photos...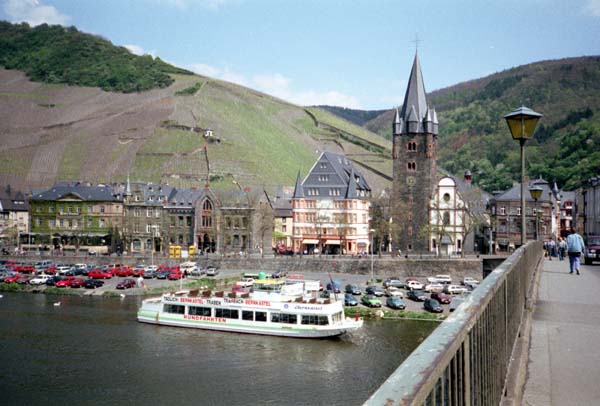 ---